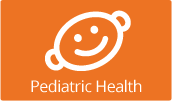 The goal of this program is to promote happy/healthy families.
The program builds on the level of service currently provided to our pediatric population by physicians.  Pediatric patients who appear to require more intervention than is provided by routine well baby/well child assessment, would benefit from a referral to one of the clinicians depending on the nature of the need; dietitian regarding nutritional issues, social worker for management of behavioral issues or case management.
Continue to check back to this page for new, upcoming educational opportunities for our pediatric population.
CLINICIANS
Primary Care Providers (Physicians/Nurse Practitioners): Provide primary care services (infant/child development assessment, diagnosis, prescribing, treatment, and counselling).
Registered Nurses: Provide triaging services, handling phone consultations, deliver well-baby and well-child care, respond to adolesecent concerns and participate in focused educational programs for parents.
Dietititian: Child nutrition care (provide educational opportunities for obese children/adolescents).
Social/Mental Health Workers: Provide behavioral or case management services for children.