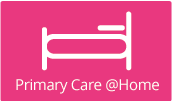 As of August 28th 2019 the PrimaryCare@Home Program has limited capacity for new referrals.  Feel free to call the program coordinator to discuss possible referrals and eligibility prior to completing the referral form. Check the website for future updates.
The PrimaryCare@Home Program through the Taddle Creek Family Health Team aims to provide home visits to older adults who are unable to access primary care in the clinic for medical, cognitive and/or social reasons. A social worker, pharmacist and other community partners, including the CCAC, help a family physician and physician assistant provide in-home primary care.
In order for a person to receive care, they generally must:
Have difficulty accessing a primary care provider (ie. family physician or nurse practitioner) because of physical, cognitive and/or social issues
Be over 65 years old with a valid OHIP card
Consent to an initial assessment by the team and be willing to have their care transferred from their current primary care provider to the PrimaryCare@Home Team
Live in the PrimaryCare@Home program catchment area, which includes the following postal codes: M4V, M5R, M5T, M5V, M5J, M5G, M6G, M6J
Not live in a retirement home or long term care facility
Application and Referral Process:
Anyone can make a referral, though many come from the CCAC (Community Care Access Centre) and hospitals.
The PrimaryCare@Home referral form is available here.
TC FHT PrimaryCare@Home Referral
Please complete the form and fax it to 416-585-5815.
The team reviews applications weekly and will attempt to contact the referral source within several weeks of receiving the referral to arrange for next steps.
An initial in-home consultation will be completed to assess whether the program is able to adequately meet the needs of individuals seeking care.
Should you have questions, please feel free to call Andrea Filip at 416-585-9555.