Let's Talk Diabetes
Description: A follow up to our Diabetes DIY group, this is a fun and interactive way to learn more about Type 2 Diabetes by using visual props and discussion. This group is designed to enhance knowledge and self-management habits learned in previous groups and encourages peer-lead discussion.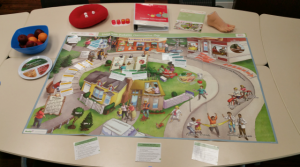 Learning Objectives:
Strengthen diabetes self-management skills by engaging in open and meaningful discussion with others who are living with Type 2 Diabetes
Dispel some common myths about living with diabetes
Length: 2 hours (offered twice a month on Wednesday morning or Thursday evening)
Group Leads: Diabetes Nurse Educator, Diabetes Dietitian
Group Size: 8 – 10 (family members are welcome, please inform reception at the time of booking)
Referral: You may contact the Diabetes Education Program directly (see contact us).